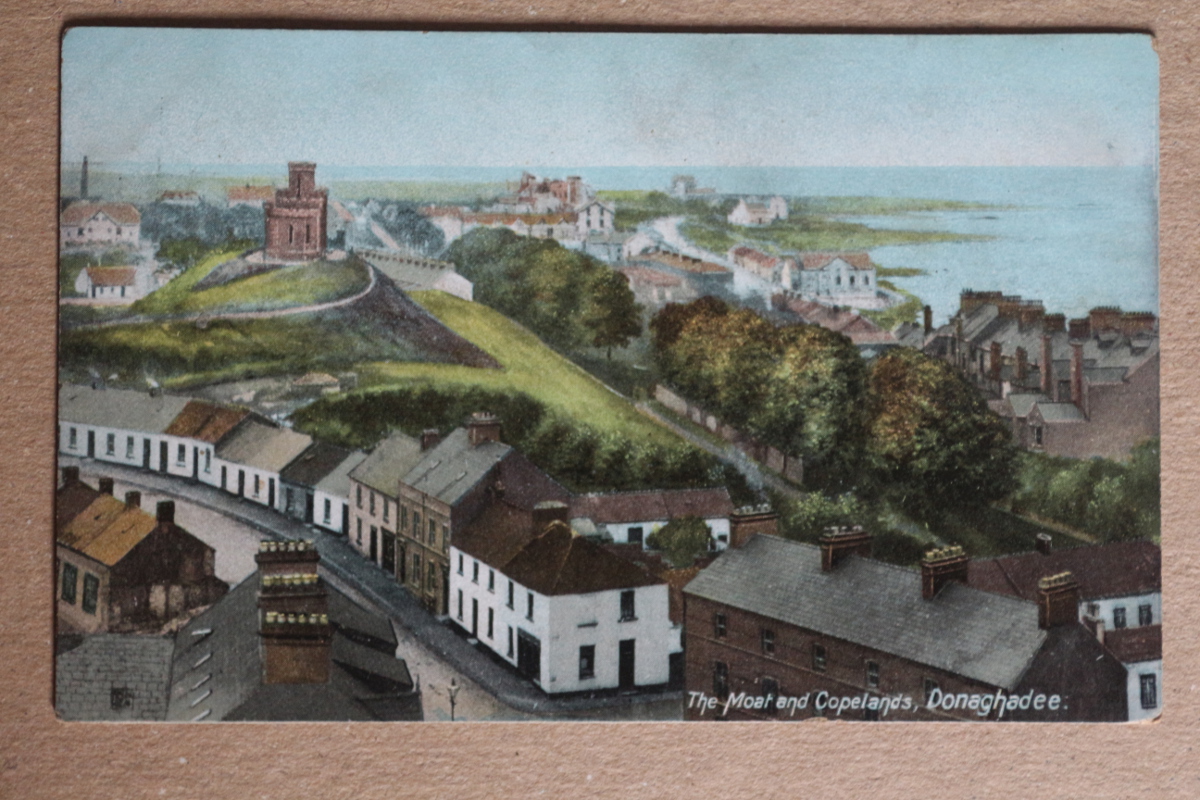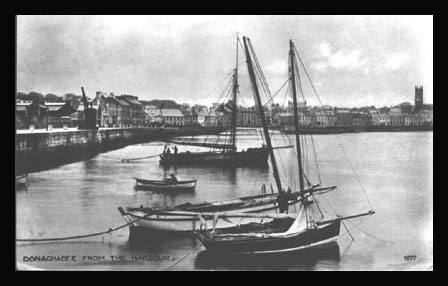 Donaghadee town
A church was founded here by St. Patrick in 5th century AD. In 1603, James Hamilton came into possession of Donaghadee, but it was granted to Hugh Montgomery in 1606. He was anxious to improve the Donaghadee Port so brought masons, carpenters and smiths with him from Scotland to begin the building of dwellings and work on the port in 1626. He controlled Portpatrick, Scotland and wanted to dominate travel between Scotland and Ireland.
The Scottish settlers came from Lanarkshire, Renfrewshire, Stirlingshire, Argyllshire, Bute, Arran, the Borders, Kirkardbrightshire and Dumfries and brought their cattle with them. People with the following surnames appear to have settled the first dozen years: Adair, Agnew, Aicken, Allen, Anderson, Barkley, Bracklie, Boyle, Cathcart, Catherwood, Cowper, Craig, Crawford, Cunningham, Fraser, Harvey, Harper, Hunter, Kelso, Kennedy, Logan, Martin, Maxwell, McDougall, McIlveen, McMackene, Moore, Mowlen, Neil, Orr, Peacock, Sempill, Shaw, Spiere, Thompson, Williamson, Wilson, Wylie and Wymis. In 1659 there were 83 English/Scots & 63 Catholic families and the proprietors of the village were Roger Crymble, Robert Brearely,Henry Cresans, Archibald Mullen & William Brown.
In the 19th century, Donaghadee passed to the Delacherois family. (HN)
The Religious Returns of 1764 show that there were 100 Church of Ireland families in the parish with 1848 Presbyterian and no Catholics. The harbour was rebuilt in 1821 when the town consisted of 2 long curving streets, one running along the shore & the other inland. The houses on the shore were stone, plastered & whitewashed with slate roofs & neat. The population of the town was 3,000 and the people were described in 1824 as peaceable and industrious. The whole town in 1837 was described as neat & tidy. There were 650 houses, mostly of one-storey, with some two & three-storey, mostly stone but some of mud, 160 were thatched roofed. There was a large fish pond near the town, a lighthouse on the southern pier & a coastguard station which had seven men & an officer in 1836. There was also three policemen ,and a newsroom for the middle classes. Most men at that time had maritime occupations, whilst the women were employed in ornamental needlework.

In 1837 there were six fairs held annually, a savings bank, 5 schools ,a powder magazine & old barracks; smuggling was popular but the people otherwise peaceable. The population of the parish in 1846 was 8557 people with 3151 living in Donaghadee town. 28 May 1848 a public works program was instigated for famine relief with road works from Newtownards to Donaghaee (FCD 8) . The principal imports in 1852 were coal & timber and the exports were live cattle & pigs (POD). The railway was here by 1863. The coastguard station & lighthouse were in The Parade; the Petty Sessions house was in New Street; the Police Barracks was in High Street; the Gas Company in Railway Street ; the Dispensary in Bow Street in 1863. The population in 1910 was 2073.